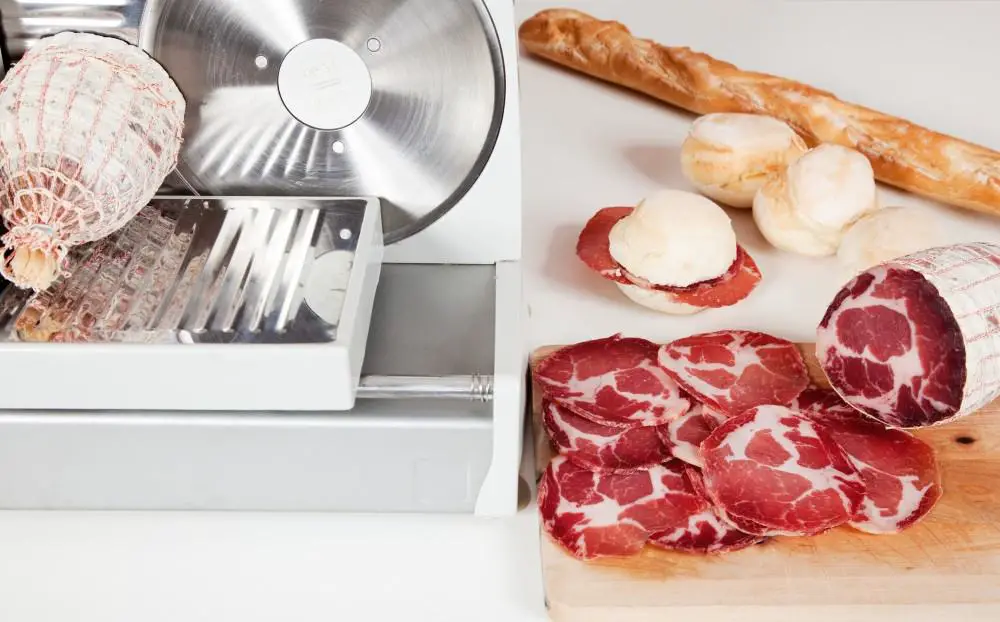 The electric meat and food slicer is one of the best kitchen appliances ever invented.  It leverages the job of a simple knife and makes kitchen tasks easier. Aside from reliability and efficiency of use, an electric meat and food slicer can also help cut costs due to buying pre-sliced deli meats.
By using a slicer, the unprocessed meat, poultry or cheese in bulk can be sliced according to the desired thickness so that people can make their own  deli-style sizes in the comfort of their own homes.
When thinking about buying an electric meat and food slicer one should consider the important features that must be examined before buying. These features give insight in to how reliable the slicer can be during use.
Here, we aim to bring you information and reviews of new products; not just slicers but knives, accessories to help cook your favorite meats, advice and tips.
Here are some of the features that need to be checked before buying a meat and food slicer:
The material it is made of
The most ideal materials a slicer can feature are stainless steel metal and cast aluminum. Therefore, when checking the features of the electric slicer always checks if it is made of stainless steel and cast aluminum. It cannot be avoided however that some parts are made of plastic, but make sure that most component parts are made of stainless steel and cast aluminum.
Safety features
The Safety features are very important as they will determine how the operator can be safe while using the electric meat slicer. One important feature is the locking feature for the blade. A meat slicer must have a button that locks the food carriage so that the blade cannot be accessed by children when not in use.
The size of the blade
The size of the blade can be an indicator of the efficiency of slicing. For small operations it is desirable to use blades that measure 7 or 9 inches in diameter, while for high volume operations it is best to use a 10 or 12 inch cutting blade.
The power of the motor
The reliability of an electric meat slicer will primarily depend on the power output of the motor. The stronger it's motor the more efficient it can slice. Some customers complain of buying motors that easily overheat after just a few minutes of use. A case like this is an example of a food slicer with a low quality motor. To avoid this it is best to buy a meat slicer with a motor output of at least 1/3 horsepower. Such a motor can be used for 2 to 3 hours of operation a day.
There are so many electric meat slicers on the market today. Some of the features above can already help in distinguishing which electric meat and food slicers stand out when it comes to efficiency of use.